Now that we've covered the difference between slides and elements and how to add new slides in a presentation we can tackle how to manage elements.
ADDING ELEMENTS TO A SLIDE
The Add Content button lets you insert additional elements into a slide. An element may be an Image, a Chart, a Quote or a regular Paragraph.
 

GREYED OUT ELEMENTS

When creating a slide some elements might appear grayed out, this means the element was already used on will not fit in the slide because of the number of elements previously added.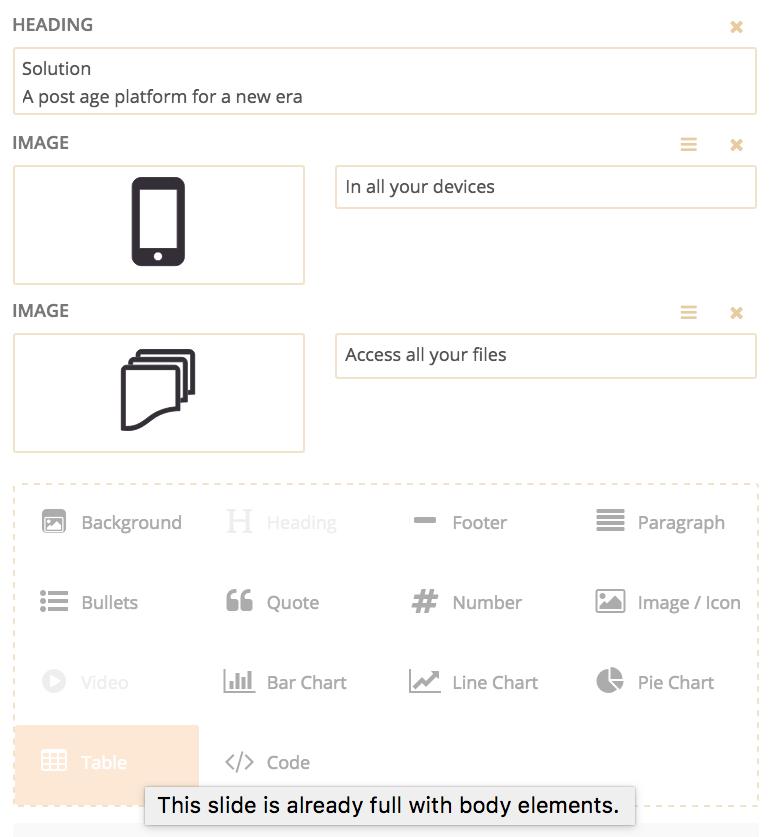 MOVING ELEMENTS

Once your slide is done you can move elements up or down to change the way they will appear once you're presenting. To do so you will need to click on the reordering icon and drag the element to the correct position.
 
DELETE ELEMENTS

You can deletes unwanted elements from the slide by selecting the X icon. Do keep in mind that all deletions are final. 
 
On the Design editor, you'll be able to manually drag and drop elements on the desired location, a grid will show up for guidance.